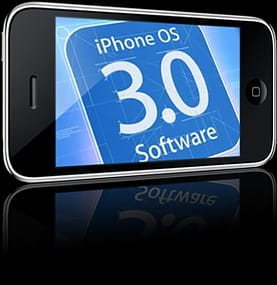 Sound the horns! Release the doves! Call your Mom! iPhone OS 3.0 is coming! Tomorrow! (06/17/2009) There has been so much hype leading up to this release you'd think it was the second coming. But it's not. It's the third … coming of the iPhone OS that is. Along with it will come a new iPhone too. The iPhone 3G S. They say the "S" is for speed. I think the "S" is for "Sales" through the roof. Even before its release, preorders are sold out. Undoubtedly there will be lines starting at an Apple or AT&T store near you.
There has been a huge ramp-up for the release, starting long before last weeks "World Wide Developers Conference" (WWDC). The fan-boy blogs and the Twitter-verse has been on fire. But Apple has also been pushing hard too. This is their cash cow, their baby. That and all the iPhone apps that will now have to be updated and OS 3.0 compatible by the OS 3.0 release date tomorrow? We'll see.
Well actually I have seen. I Tweeted earlier tonight in two separate tweets :
Those #iPhone #apps are just pouring out. I got 4 just today. Seems like everyone is trying to get their apps 3.0 ready. Keep 'em coming.   10:19:19 PM June 16, 2009 from Tweetie


#app #iphone updates:
iTV
Amazon
Twitterific P 
Trip Cubby 
10:16:14 PM June 16, 2009 from Tweetie
@MuscleNerd from the iPhone Dev-Team did a live broadcast and demo of "UltraSnow" the new iPhone OS 3.0 jailbreak. You have to love these guys! The software isn't officially released and already they have a jailbreak written and ready to go for the new OS. You can find out all the particulars on the Dev-Team Blog.
So I'm ready with my 1st-gen iPhone for the Dev-Team to deliver PwnageTool and QuickPwn their two wonderful jailbreak apps … for the rest of us. Oh how I'd love a new shinny iPhone 3G S … but alas … I'm poor. And seeing how I use T-mobile I can't get a subsidized iPhone from AT&T. I paid full price for my original one. Not again. But then again I've heard that before too. 
 I'll just take a wait and see attitude. I know I'll get enough of the new OS benefits. But will they be enough? Only time will tell.
So iPhone enthusiasts, fanboys/fangirls & the uninitiated … start your engines! 3.0 is coming! 3.0 is coming!