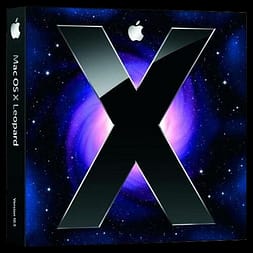 As you may or may not know, Apple has a new cat waiting to pounce on us all. Leopard (a.k.a. Mac OS X 10.5) arrives at your local Apple store on Friday October 26th at 6:00 PM. Apple stores will be open until Midnight that night.
This new cat will be sporting some new spots …. over 300 of them. These new feature will cost you $129.00 US. Or if you bought a new Mac on or After October 1, 2007 you can get a free upgrade disk for $9.95. The cost of shipping.
System requirements for Mac OS X 10.5 are:
Intel Mac, Power PC G5 or a Power PC G4 with an 867MHz processor or higher, 512MB RAM and a DVD drive for installation.
As I tell all my clients when a new Mac OS is ready to be released … wait. If your computer use is mission critical, then don't be an early adopter. As always, there will be applications that will "blow up" in a new OS … and an update can be weeks to months away. If you must be bleeding edge, load the new OS on a separate HD & 'play' with it. Add in a few of the apps you need. See how that goes. But whatever you do … don't just blithely do an install on top of you older version of OS X. You are just begging for trouble!
You may have heard this a billion times, but here it goes once again. Back up your computer before doing any major install. If you have a second internal drive or an external hard drive use a utility like Carbon Copy Cloner and clone (make a copy) your current HD to an image file on your second drive. Or if the drive is empty just create a "bootable clone." This way if disaster strikes while upgrading, you can boot from the clone & get back to work restoring the original drive.
I'm sure I'll be writing more as time goes on. But I've already had two clients ask about the new OS. Apple had made the announcement today, but also did a supporting mailing to their mailing list.
So if you plan to be bleeding edge … back up … and be prepared. Oh… and don't forget the virtual band-aids. Ouch!