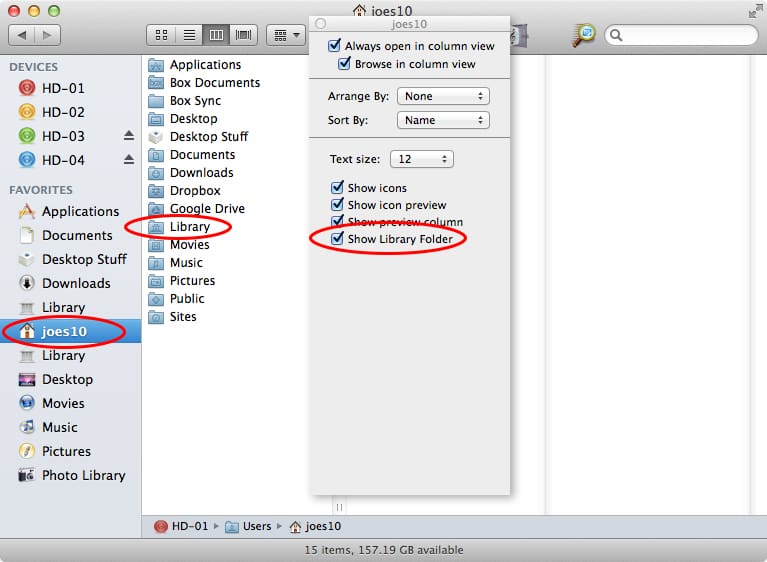 In the past few versions of the Mac OS, Apple has taken to hiding the User Library folder. Whatever their reasons, Apple thought it best to hide that Library folder from everyone; regardless of your tech experience, or lack thereof. One one hand — out of sight out of mind. Let's just get on with Mac's "ease of use" and no one needs to see the "silly bits" under the hood.

For the more technicly inclined, there was always Terminal and the Unix commands to unhide that folder. For most folk … Apple didn't want us to see that folder — period! But if for some reason you NEEDED to get to the folder, there were a few other ways to get to it.

I'm here today to let you know Apple has hidden a NEW way of unhiding the User Library folder, and I must say … well done and hallelujah!
How To: Unhide User Library Folder Mac OS 10.9 Mavericks
1) Open a window in the Finder.
2) Select you user folder (mine: joes10) or if your User Folder is not in the sidebar, while in the Finder hit ⇧⌘H to open directly to your User Folder.
3) Select menu : View > Show View Options or hit ⌘J
4) Check "Show Library Folder" in the View Options window.
5) Close the window.
6) That's it! Done!
Power User Tip: I place the HD Library Folder above my Home folder and the User Library Folder below my User Folder. This way I always have access to each folder in the Finder or in any dialog box.
That is how Apple has resolved the issue. Sometimes a new pref can make all the difference in the world. For those of you interested, or who might have older version of Mac OS X, MacWorld wrote an article "18 ways to view the ~/Library folder in Lion and Mountain Lion". Figure it's easier to send you there if you need it. Why reinvent the wheel.