Admittedly, I've been an Apple user and serious fanboy since 1986; when I bought my first Mac Plus for my Bond Street recording studio in Asbury Park. From there a Mac II — and ten years later — a SuperMac Mac-Clone. What always amazed me — besides a Mac's ease of use , and creativity boosting abilities — was how long they lasted!

I was never one to buy one Mac, then need to buy the latest and greatest out of Cupertino a year later. Mac's initial costs were always hefty. But they also lasted longer and had high resale values on the other end. Buying a new Mac was a life event, in and of itself — well for me at least. And sometimes a new Mac coincided with other life events. This time is no different. And time may be the key factor in this purchase.
I'm getting old! There I said it! My eyes aren't what they used to be. My vision had changed drastically in the past six months — or so it seems. My optometrist told me I had cataracts in both eyes. Even though my prescription hasn't changed, it's become more difficult to see. For the first time in my life I started using Apple's Accessibility features — especially "increase contrast" and "display zoom" to make text larger and easier to read. This new vision issue has been quite sobering. Especially when I earn most my living sitting in front of a computer screen all day. My old MacBook Pro and 24″ LED Cinema display were the height of technology back in the day. The combination of computer age, my age, are compounding my eye issues and not helping things. Plus the processing power of the old MacBook Pro was not cutting it as well as it once did. It really was time to bite the bullet.
I had been looking at the new iMac 27″ with Retina Display and drooling for quite some time. To my joy, Apple had some very creative financing options going on. I could either go for 24 month "equal payment" financing through PayPal or 18 month no interest financing via a Barclaycard credit card. I opted for the later. Plus I'll get cash back on the purchase in the form of an Apple gift card. I'll end up using it to buy AppleCare for my new Retina iMac. Win, win!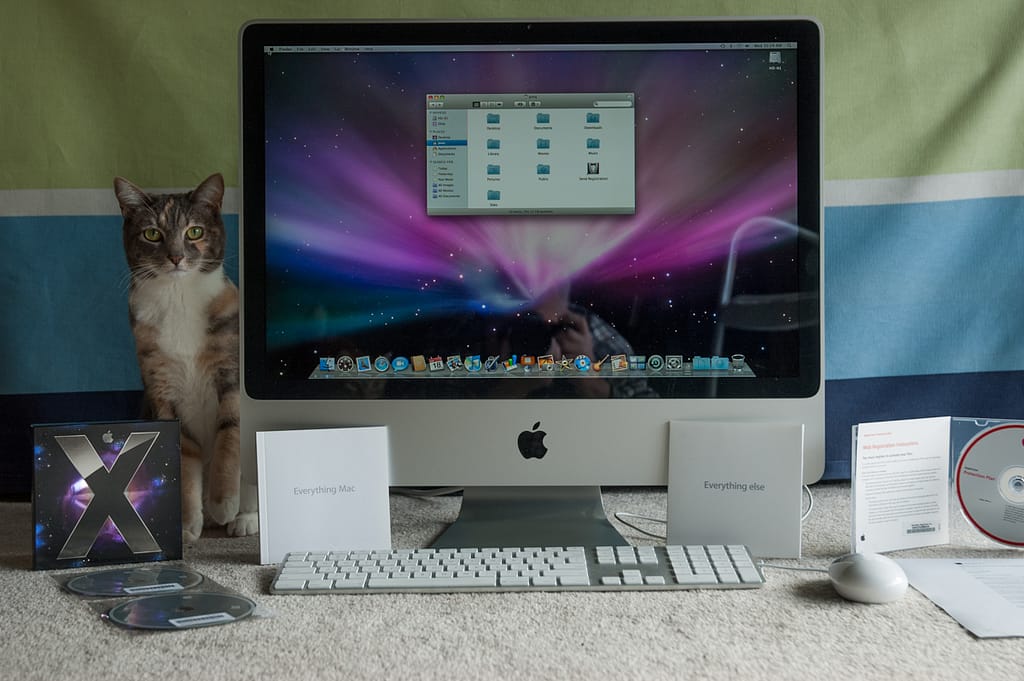 This is the first time in a long while that I did not sell my previous computer to offset the cost of the new computer. I still need an "onsite" laptop for when I do onsite client calls. Though they have been pretty non-existent in the past four years since moving back to Asbury from Seattle. I do so much remotely. But hey … you never know!
The MacBook Pro and Apple 24″ LED Cinema Display (above) I purchased on a weekend trip to Portland, OR with my ex Chris. The plan was to have a great weekend and buy new computers, because there was no state sales tax in Portland. It was worth the three hour drive to hang out in Portland for a weekend, buy a computer, eat Hot Lips pizza, roam the stacks at Powell's Books etc etc etc.
That MacBook Pro has lasted me 7 years, and is still kicking. Mind you, I've beefed it up a bit. I maxed out the RAM, added 250GB SSD (solid state drive) and a 750GB 7200 RPM internal HD replacing the obsolete internal DVD drive. it breathed some new life and speed into an aging laptop. The 24″ Apple LED Cinema Display is also showing a little wear … but it's fine as a second display in my new "deliciously evil" setup.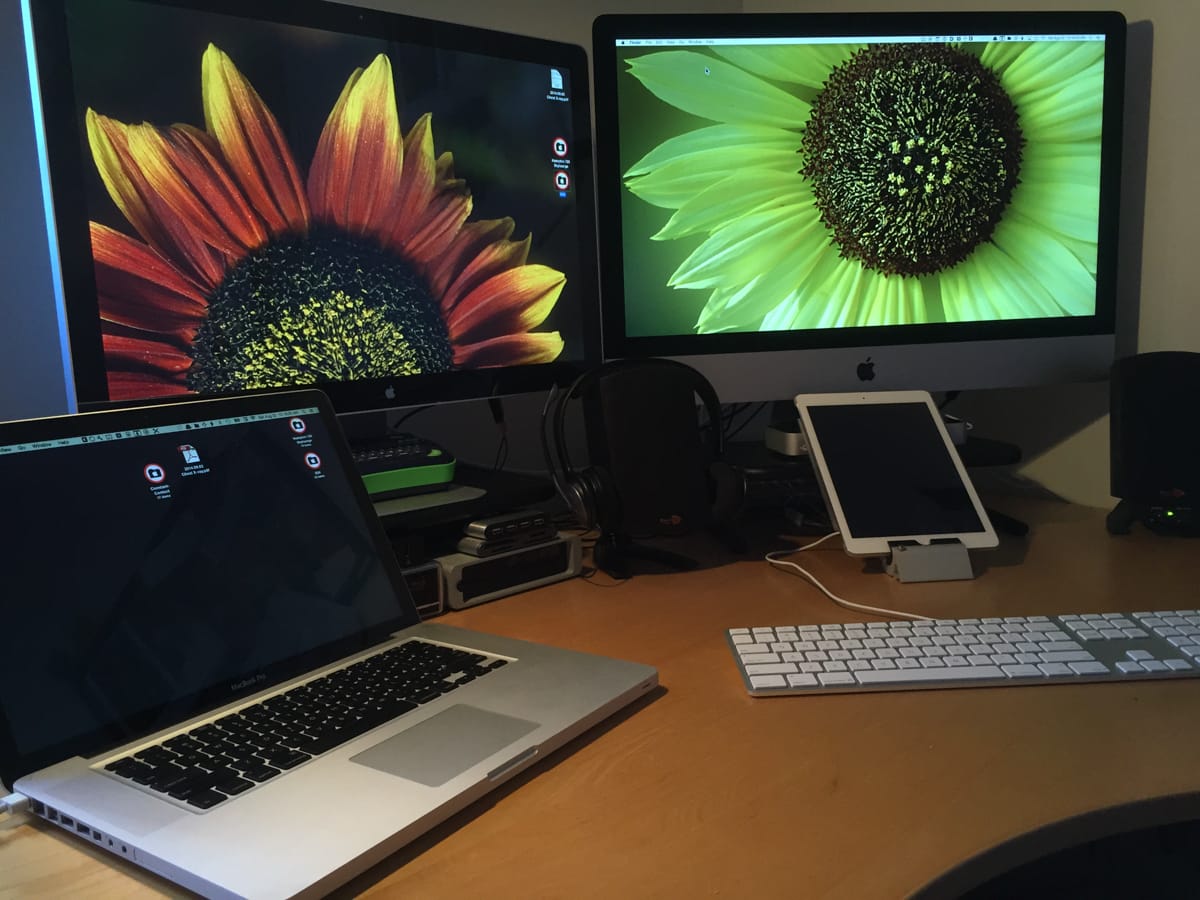 Do I really need to say I'm a happy camper? I really love the new Retina iMac. It's the sharpest Apple display I have ever seen. Yeah, I might be gushing — but the truth's the truth! I'm running it at a slightly lower resolution, to make text bigger without zooming. It still looks better than the old 24″ Cinema display now sitting to the iMacs left. I also love that the new iMac has the video power to drive both large displays without breaking a sweat! Adding the AMD Radeon R9 M295X 4GB GDDR5 sure helped with that. I knew this was going to be my dual display setup and wanted to make sure I didn't skimp on the video card or RAM.
On a technical note: it's odd to see some of the newer Mac OS X interface changes on the ne iMac 5K Retina. Here are the Displays System Prefs windows for the two current displays. On the new iMac gone are the old numeric resolutions. They've been replaced with "Larger Text", "Standard", and "More Space". The dumbing down of the Mac interface continues! The price of progress?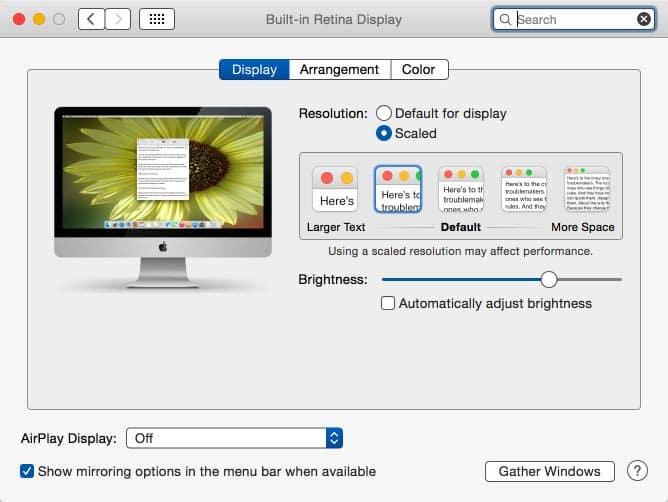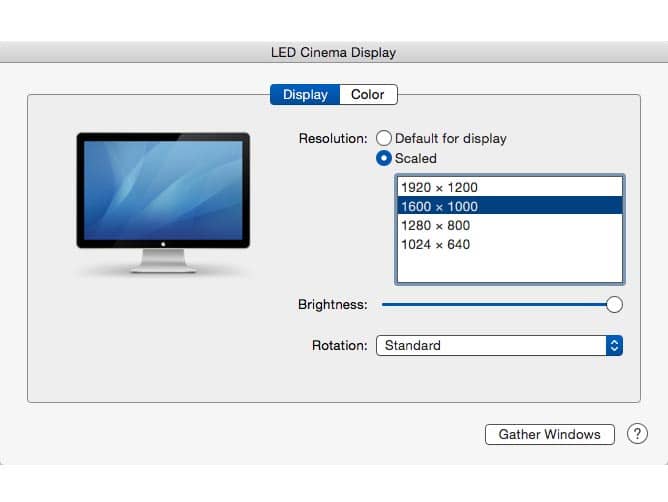 And wouldn't you know I've already found an obscure bug with my new iMac 5K running 2 displays. It seems the iMac 5K running Yosemite is not remembering my display resolution settings between restarts. For both displays I'm running non-stock resolutions. But it's not being retained between boot ups. It's been talked about a bit on the Apple User Forums, with no resolution (no pun intended). I've tried zapping the PRAM — that didn't help. Oh well … time to report it to Apple & hope they fix it in an update.
Yeah, this baby can kick butt and take names! And in a recent article comparing the new iMac 5K Retina with a new Mac Pro the iMac held its own throughout the testing. Sadly, I read so many articles on the new iMac I can't remember where I saw the article. Oh well. And the new MacWorld Magazine raves about the new iMac 5K, as does AppleInsider!
So this new Mac will be working hard for years to come. It may be time to do some more recording (I'm also a musician) … now that I have all this horsepower. I see some other creative projects on the horizon too. Always nice to have a more powerful Mac to do them on.
iMac w/ Retina 5K Display
27-inch iMac with Retina 5K display
With the following configuration:
4.0GHz Quad-core Intel Core i7, Turbo Boost up to 4.4GHz
16GB 1600MHz DDR3 SDRAM – 2x8GB
3TB Fusion Drive
AMD Radeon R9 M295X 4GB GDDR5
Magic Trackpad
Apple Keyboard with Numeric Keypad (English) & User's Guide
Accessory Kit
I'm still getting use to having such a HUGE crisp screen and not have to strain my eyes. And to have two large screens side by side — I'm in heaven! If I like it this much now … how much better will it be when I have my cataracts removed and seeing more clearly??!! Can't wait!
I figured I might as well do an "unboxing" and take official photos. What the hell! Rocky & Rose needed to help … or course! New boxes? Where do they sign up! What is this new cardboard monolith before us? And it's padded!
I also decided the new screens were so beautiful side by side I needed to show off some of my home-grown-from-seed sunflowers, that I also photographed back in Seattle. They look stunning!
I can tell that I'll be doing more How-To articles and such. Now that I have a new iMac … I need to put it through its paces. More to come …