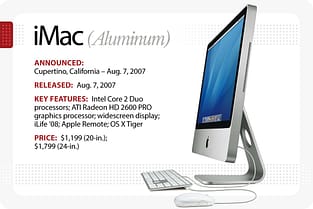 Here I sit waiting to get loaded. Or maybe waiting to come down. I sit in front of this wall of aluminum & silicon dioxide and wait. It's so very black and shiny. But it's not a monolith. Or is it? Something is changing blocking my view, yet I'm seeing much more clearly. It's so stunning it almost hurts. It did hurt a bit. But only in the wallet.
Here before me stands my shining new iMac. Never in a million years did I ever thing I'd own an iMac. Starting to see a pattern here? I said something similar about owning an iPhone. But there they both are. In all their black and silver shininess. Peering back at me with all their SiO2 glory … and clarity.
But I'm a professional. I should have a 'professional' machine. A gigantic monolith of an aluminum tower who's girth and weight would make a hippo feel svelte. Been there. Done that. But one Intel dual core beats a pair of G5's. Or in my case a dual core G5 any day. It's big. It's glossy. And damn it … I can now load ringers on my iPhone. And I did! That alone may not have been the sole reason. But I'm sure it had a part in my thought processes and the final outcome.
I was feeling left behind. Having to slog through life with some old nasty pre-Intel Macintosh. The pain. The degradation The shame of it all. So when Steve on Tuesday said this day was going to be about the iMac … he was so right. It's was the day of myMac. Yes … my iMac
I never thought it would happen. Hey … and I even like the new keyboard .. in all its slim aluminosity! I like that it sits so low to the ground … err … desktop. Never thought I'd give up my trusty old wireless keyboard & mouse. But here I type … and it feels better. Seems I can even type faster? Hmmm. I wonder if it will make me feel younger? Okay … maybe not.
Give Steve (and all the rest of the Apple team) a few weeks … and he/they can change your whole Mac Universe. Now If I could only get started changing the rest of my life. Okay … maybe I'll start tomorrow. 😉 Today … I have another new toy to explore.
Lord there goes Joey Appleseed ….