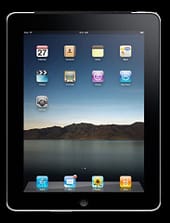 And so it has come to pass. The magic "Jesus Tablet" has come to mere mortals. And it's name is iPad! Like Manna from Steve Jobs and company, it has been delivered unto us this holy day Wednesday, January 27th 2010. Steve came from the mount @ 1 Infinite Loop and presided over his flock from a singular leather chair, stage left of the Yerba Buena Center for the Arts Theater, San Francisco. The "reality distortion field" is strong with this one. I could only imagine the excitement of the yet unanointed.
With so many rumors flying, no one knew what to expect. Would Steve start with something innocuous, the new iPhone OS (which didn't happen) or a new iPhone (which also didn't happen) and then at the last moment …. oh … just one more thing. No. He launched straight away into setting up and introducing the new iPad.
There will be those that will rip it apart for what it doesn't do. No phone. No Camera. No Verizon. No multitasking. But as a consultant, I need to talk about what it does do. And the possibilities it brings. Oh. And the joy!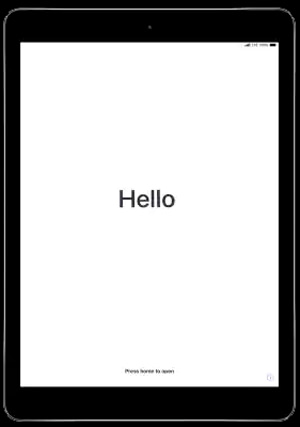 Hello iPad: Let's start with the obvious. It looks like a large iPhone. But it's not. You can't make a call from it even with the Wi-Fi and 3G package (unless you have Wi-Fi & use Skype … but that's just theoretical … I digress). Looking at the icons on the front screen, it looks very much like an "exploded" or "expanded view of the iPhone desktop. Only four icons across, and four in the dock. If more will fit in the dock, will remain to be seen when the first Wi-Fi versions of the iPad ship in 60 days. Though 60 days from today Wednesday January 27, 2010 is Sunday, March 28, 2010. So maybe the 29th? Guess we'll have to wait for the official date from Apple. Who knows what version of the OS it will finally ship with … iPhone/iPad OS 4.0?
Apple Inside: Apple has taken a bold step in its evolution with the iPad. It runs a new 1 Ghz Apple A4 processor. Apple's chip also includes onboard video processing. No Intel inside. No Qualcomm inside. No NVIDIA inside either. Apple bought P.A. Semi back in 2008. It's the first time they have used their own silicon in an Apple device.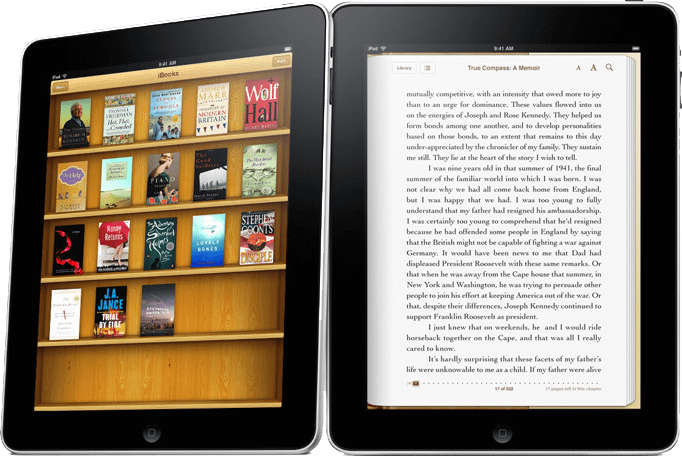 eBooks: We wanted them. We got them! Plus a new iPad application called iBooks. Like iTunes you can buy eBooks directly from Apple via iBooks. The interface is simple, slick, and well designed. There have been other iPhone books apps that have looked similar, but Apple is not one to shy away from "quoting" another programmers work & calling it their own.
Apple announced partnerships with five major publishing houses, including Penguin, Macmillan, and Simon & Shuster. With more to come. All books on the iPad will be in ePub format, which is the most used open book format in the world. So in theory, any ePub book can be read on the iPad. iBooks is going to be yet another cash cow for Apple … and the publishers. Look out Kindle and Nook.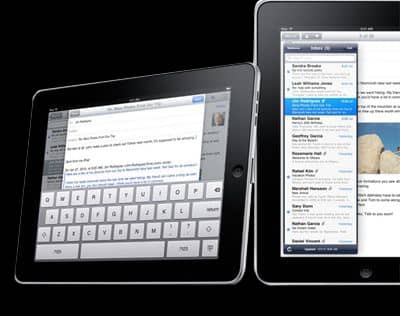 Mail: Mail on iPad has been redesigned. It's use of popup contextual menus is well designed. The virtual touch keyboard for composing new eMail looks almost like a real keyboard. It seems that big too. Turning the iPad in landscape gives you a screen with your Inbox and folders on the left. select a piece of mail and flip iPad to portrait, and the inbox goes away and you eMail fills the screen. Sadly I can't tell you much more than what I've gleaned from photos and the iPad Video on the Apple website.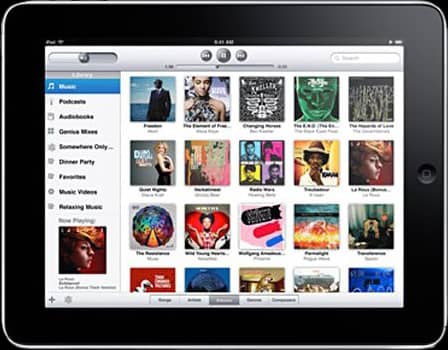 iPod: Dream alert! Imagine if you will, an iPad landscape car dock. Now imagine if you will the ability to use iPad with my car stereo. I could use iPod.app for the first time in iPod history, to see album images on the screen large enough, that I could use as my music interface for my car. In landscape, I would imagine, iPad's version of iPod.app uses cover stream. No more searching on a single line of text on my "iPod compatible" car stereo for songs buried deep within a playlist somewhere. I may have to build this thing myself if I have to!
It will also be nice to see what iPad developers do with the new screen real estate … all 9.7 diagonal inches. Plus the new iPhone SDK that will give them access to all the new menuing and other iPad specific features. It will be another summer of exciting new iPhone and iPad apps! As of now all current iPhone apps will run on the iPad AS IS. No updating needed. Plus you can run the current iPhone apps in "double" pixel" mode, which makes then fill the entire screen. Pretty thoughtful on Apple's part!
I could go on about each redesign of each app, but Apple.com has done it best. Whether it's Safari, Calendar, Contacts, Notes, Maps … they all have been redesigned … and they look and function great.
Now I can't wait to get my hands on one to test for myself. Apple did a great job of making the entry level 16 GB Wi-Fi iPad only $499.00. I'm like a kid waiting for early Christmas! Oh gee …. is it 60 days yet???!!!