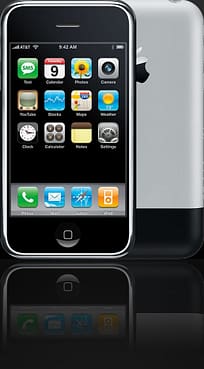 Okay. It only took seven days for me to break down & bite the silverish bullet that is the iPhone. I ranted. I raved. I kvetched. Then I broke down and bought one. Told you I was only human!
Dale from Crow's Nest has that 'extra' one still kicking around … and I convinced myself … with a little help from Edie. She's the office manager at the Seattle office. It had gotten to the point where so many people were asking me how to do 'something' on the iPhone that I figured it was 'my duty' as an informed Apple consultant to have one of these babies to call my own. Of course I made this purchase solely in the name of research. Yeah research. That's my story and I'm sticking to it!
So yes …. Mr eMac Consulting now HAS an iPhone. Woo hoo! 🙂
Now that I have one let the research begin!