Sometimes we all have to take a stance.
Have an opinion.
Make a choice.
Even click our heels three times: There's no place like home.
Well at least iPhone's home (button).

If you haven't guessed by now I've traded in my trusty—and loved—iPhone 8 Plus for a shiny new silver iPhone XS Max. I knew there would be trade offs. I knew there'd be a bit of a learning curve; especially reprograming body memory. This one is the toughest to overcome, and I'm still in the process.

Some would say without a sense of home—we are lost. When it comes to my new iPhone XS Max no truer words have been spoken. Without a home button sometimes I do get lost. When I pick up the Max I have to physically look at the phone to know which end is up. If I also didn't have a tempered glass screen protector which outlines and accentuates the new iPhone "notch", life would be even more difficult trying to figure out which end is up. On the Max there is no Home Button to give a visual or a physical cue. One of the best gestures associated with having an iPhone is now gone from here on out. Every time I'd pick up my old iPhones with Touch ID I could place my thumb on the home button and pivot the phone to a vertical and usable position with a flick of the wrist. And with Touch ID and Accessibility preferences set correctly, I could flick, have my thumbprint read, while pressing the Home Button and be at the Home Screen in one short motion. I can't tell you how much I miss this feature and ability.
As with the original iPhone X, the new Max uses Apple new security method—aptly named Face ID. It's why the new notch is where it is. It contains a host of lenses and sensors to read your face and unlock your phone. Of course like Touch ID, Face ID must be set up to function. And with the release of iOS 12.0.1 we also get the ability to add a second profile for reading of our face. I did the second one with sunglasses and a baseball hat on. I'm surprised how well it works! Though the only caveat is, some sunglasses' UV protection can stop our eyes from being scanned and foil Face ID from recognizing us. At which point we'd need to take the glasses off, or enter our passcode.

Another nice feature of Face ID is it is constantly using machine leaning to know who we are as our faces change with age, weight loss, or gain, or other subtleties. I almost think this is one of those "magical features" that Steve Jobs liked to wax poetic about. Things that happen behind the scenes that just make using the tech easy and seamless without human intervention.

But I still miss my Home (button)!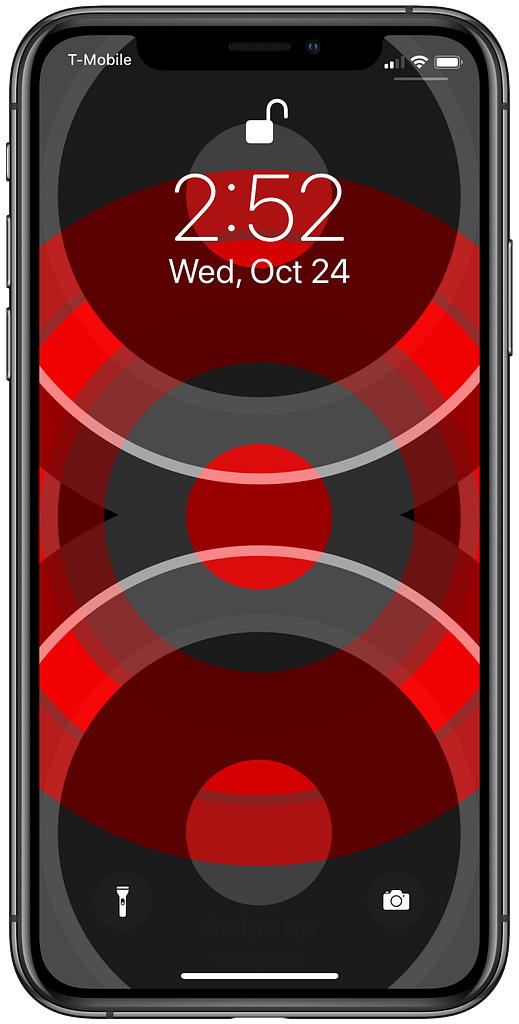 As the iPhone has developed and been redesigned both physically, and its interface via iOS there have been many features and physical stylings that have have come and gone. We use to "swipe right" at the lock screen to get to the iPhone Home screen. Then later that software mechanism "left the building" to be replaced by using Touch ID and pushing the Home Button. And with the introduction of iPhone X, we now touch or raise the screen to activate it and Face ID. In that same action we see the Lock Icon animate to an unlocked icon and with a flick of a finger, swipe up to reveal the home screen. We also don't have to wait to flick, we can flick as we raise the phone & Face ID will recognize us and reveal the Home Screen.

It's all very different and very subtle, yet the swipe up is reminiscent of swiping right to unlock old school iPhones. But also with that new iteration of "swipe up", lost is the ability to open Control Center with that same gesture. We lose one thing and gain another. It seems this is the iPhone and iOS dance we've been doing for years. Control Center is now called by swiping down at the top right corner of the screen.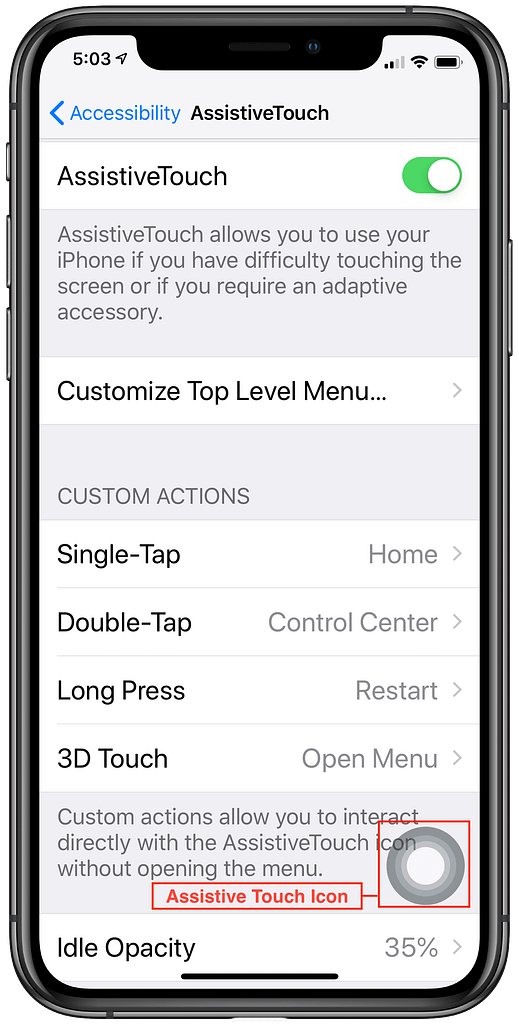 But here in lies the iPhone XS Max rub. The new screen is so tall I can't safely grip the phone bottom with one hand and reach with my thumb to swipe down the Control Center. I solved this problem by activating Assistive Touch in Settings> General> Accessibility. This gives me a floating virtual Home button. But it also can have a multitude of other functions that can be changed under Custom Actions. (see photo) I can restart my iPhone by long holding the new vHome button and okaying the popup, I can single tap it to go to the Home screen, or double tap it to bring up Control Center. I also have the vHome button set up to pop up a menu of other functions when using a 3D Touch press. (photo right)

And since there is no longer a real Home button, restarting, the iPhone, taking screenshots, and other important functions have been moved to either combinations or sequences of the Volume Up /or Down buttons, as well as the right side button, which Apple now just calls the "Side Button". Are you confused yet? Yeah. I thought so.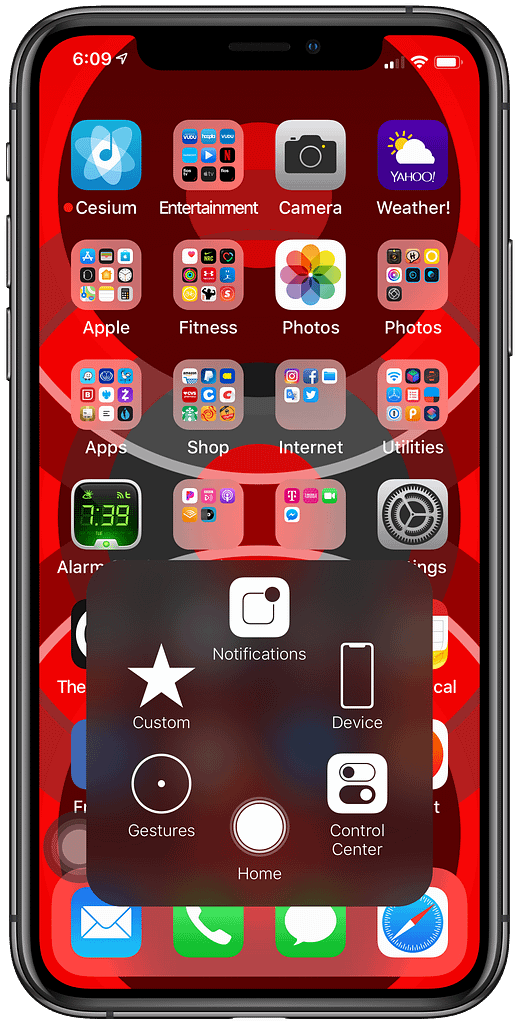 Here is a list of functions available via the Volume Up/Down and Side Button:
Lock or wake: Press and release the Side button.
Snooze an alarm: Press and release the Side button. You can also do the same for the Volume Up and Volume Down buttons.
Open Apple Pay / Wallet: Double-click the Side button. You need to have a debit or credit card connected first. Alternatively, you could use an Apple Pay Cash card.
Accessibility features: Triple-click the Side button. This is if you have the Magnifier, Guided Access, AssistiveTouch, and/or another Accessibility Shortcut enabled.
Start Emergency SOS Immediately: Quickly press and release the Side button five times. (You can disable this feature in its settings.)
Start Countdown For Emergency SOS: Press and hold the Side and either Volume Up or Down buttons together, or hold all three together. Keep holding them once the "slide to power off" screen appears.
Activate Siri: Long-press the Side button.
Power Off: Press and hold the Side and either the Volume Up or Down buttons, or all three together, then slide "slide to power off" on the screen.
Power On: Press the Side button when your iPhone is powered off.
Force Restart: Quickly press the Volume Up button, then quickly press the Volume Down button, then long-press the Side button.
Disable Face ID quickly: While on the lock screen, click the Side button, then click Volume Up or Volume Down.
Take Screenshots: Quickly press and release the Side and Volume Up buttons together.
Enter recovery mode in iTunes: Plug your iPhone into your computer, open iTunes, click the Volume Up button, click Volume Down, then long-press the Side button until you see the iTunes logo on your screen.
Enter DFU Mode In iTunes: This gets a little complex. Check out our full guide on instructions on DFU.
Buy Apps With Face ID: After hitting "Get" on a new app in the App Store, double-click the Side button to initiate Face ID scanning.
Is your head exploding yet? So many things with just three little buttons. If you can remember all of these you deserve a prize! (though not from me) But if you're like me, you'll remember how to take a screenshot, lock/wake the screen, quickly disable face ID (becoming more important if you're pulled over by law enforcement) & the SOS countdown button combination.
Another feature I miss is being able to invoke the Reachability function of iOS: wherein the screen slides down so you can reach the items at the top of the screen only using one hand.

With Touch ID capable iPhones to invoke Reachability you lightly double-tapped the Home button Touch ID sensor. This slid the screen down for you to take action. Once done, or after a small interval of inactivity, it would slide back up on its own.

To achieve Reachability on any of the new iPhone X devices, you need to turn on the Reachability function in Settings> General> Accessibility> Reachability. Once done, to invoke Reachability, "Swipe down on the bottom edge of the screen to bring the top into reach." Reachability can be invoked anywhere, including the Lock Screen.

I almost prefer this to the old method. Funny how these things work out.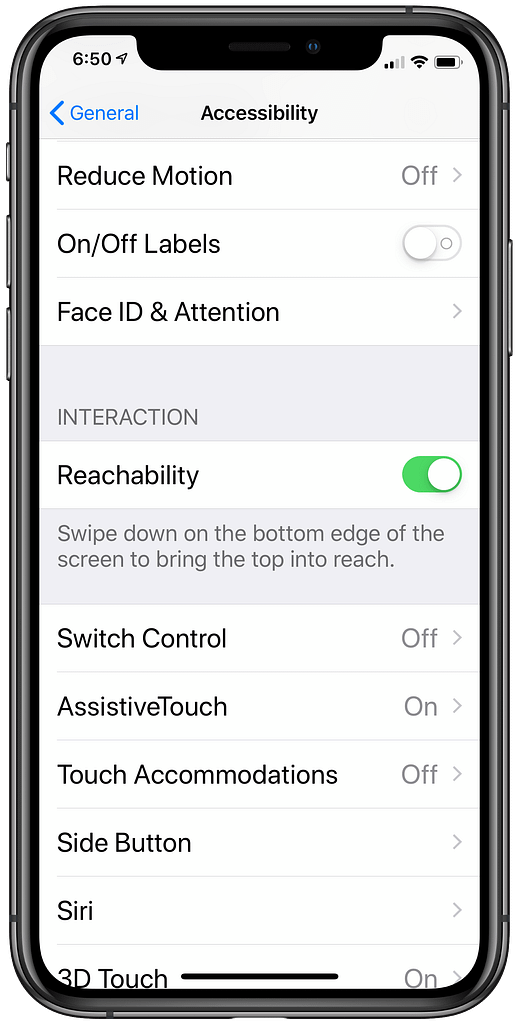 So much has changed, and possibly the biggest change is invoking the app switcher. Previously you would double-press the Home button to do so. Now there is a very odd swipe up from the bottom edge of the iPhone X and pause part way up. Then all the open apps are available to swipe through, or to dismiss with a flick up. If there are no apps open, switcher does not open, but the screen blurs and you get a very faint haptic feedback "buzz". Odd but nice all the same.

One of my favorite new features of the X interface is switching open apps by swiping right or left at the very bottom of the screen. This is so much more elegant and intuitive than 3D Touch pressing at the sides of the screen and swiping. This new function is smooth, silky, and effortless. It really does make working with open apps so much more enjoyable and easier to navigate between.

All in all I am enjoying my new iPhone XS Max. The screen is stunningly crisp and readable. It's almost the same physical size as my old iPhone 8 Plus, yet because the the screen bezel is so small, the Home button and encompassing area are also gone, there is so much more screen to be seen and used.

And yes …. though there's no place like home … home doesn't always have to be physical. With the elimination of the Home button on the iPhone X models we all may have lost some things; but with its departure doors are open for other possibilities, technologies, and ways of working. It may take time, but I'm sure there will be a point when we'll be hard pressed to remember what that Home button even looked like. Guess we'll all just have to wait and see.
gen