There are so many companies out there that will offer you SPAM filtering for a price. Some moderate, some not so. But for the everyday guy or gal who has a domain or two and is tired of paying for Internet based, or computer based SPAM filtering— have I got news for you! MX GuardDog: A Dream Come True: No SPAM! Oh and did I mention the service can be free?
I have been using BlueHost.com as my web hosting company for many years. I use them for both my personal domain go2jo.com and my business domain emacconsulting.com. I have been pretty happy with their service, tech support, features, and cost. I refer many of my clients to them. Like any good hosting company, they offer a variety of SPAM filtering options, including SPAM Assassin, and even Google's Postini. But for as long as I've used either I have had issues with both. With SPAM Assassin, though I had extensive white and black lists, plus hundreds of individual filters— SPAM still got through. Sometimes I would get literally 40-50 eMails a day that would make it through all that filtering and my blacklist. To top it all off, there was no way to easily add a piece of SPAM to the filtering.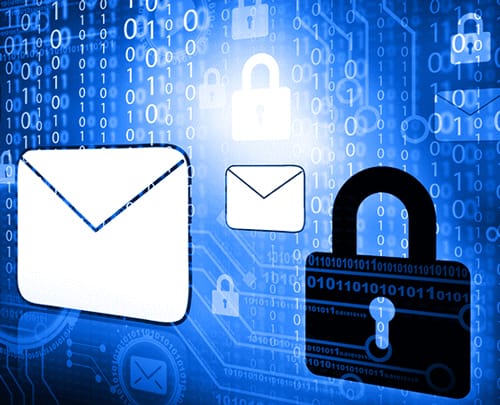 With Postini, BlueHost, since they partner with them, charged a very reasonable price for each eMail address I needed filtered. My biggest gripe with Postini was its antiquated interface and over aggressive filtering. Many good eMails would need to be released from quarantine and whitelisted. Again, having to use the web interface was frustrating, to say the least— especially on an iPhone. Almost impossible!
Yesterday, while being inundated with yet more SPAM to my InBox I did a search for "Internet SPAM Flittering", — again — and though I got many hits, there was one that piqued my interest— "Spam Filtering Service – Free Email Protection By MXGuarddog.com". Free you say? Click!
After going through their website, being my usual skeptical self, reading and perusing their FAQ, and searching for online reviews— I was intrigued even more about their service and "payment model". If I wanted to use their service, all I had to do was include text URL links from any of my website pages back to the MX GuardDog website. They even have a page on their website that generated the links for you, and kept  track of my credits. They also allow a you to "buy credits" at a very reasonable price if you don't want to use the free linking method. But if you own your own domain and website, the linking method is too easy to pass up! Plus they give you a 30 day free trial period. It's all good!
I decided to go for it! I read the instructions on the MX GuardDog website, went to my BlueHost.com C-Panel and configured my MX mail records to point to MX GuardDog's URLs, changed a few other settings and that was it. Once the new MX records propagated, my SPAM was being filtered.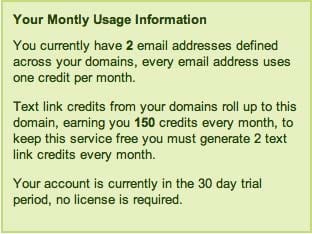 While I was waiting for the MX records to update, I went back to the MX GuardDog site & started producing links to pages on both my eMac & go2jo sites. Since you only need one credit per month for each eMail address you want filtered, I only needed two credits per month for my two addresses being filtered on two separate domains. I might have gone a little overboard linking— I now have 150 credits! But that's okay! You can never be too rich with credits! As long as you have enough to get through a month … a year …. or four or five.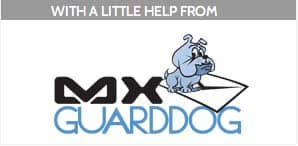 Being I use WordPress for both my websites, it was easier for me to create a sidebar widget that would appear on every page of my website. Then all I had to do was copy the URL from heavily trafficked pages on my website and use the GuardDog interface to make the link connections and get credits. What's even more amazingly cool … the higher ranked a page you link to is, the more credits your receive for the link. A normal link will get you a minimum of 2 credits. I have some very heavily trafficked pages that got me 25 credits a pop, some 10. So it's easy to rack up credits quickly with the right pages. Also, you don't have to be like me and do everything at once, but I thought it easier to accumulate enough credits so I don't have to do anything for several years. That's just me.
Like any other SPAM filter, the occasional piece of SPAM gets delivered to my InBox. I can live with that. What I love is, all I have to do is forward that eMail to spam@mxguarddog.com and THEY will examine it and adjust their filtering accordingly. How easy is that! I've also added MX GuardDog as a business in my address book, and set the first name of the contact to SPAM and the last to MX GuardDog. Now when I forward a piece of SPAM that gets through all I have to do is start spelling SPAM & the address self populates and I hit send! This works on my iPhone as well … which I LOVE LOVE LOVE! Almost TOO easy!
Okay. I realize this sounds like a love letter, more than a review … but in the short time I've been using this service … I'm enamored by its ease of use, its web interface and its ingenious credit system. All in all … even as a diehard "cat person" I'm trusting this dog to watch over my eMail accounts and keep me safe and SPAM-free.
If any of you would like a complete "How-To" on setting MX GuardDog up, I can certainly do that in another post. Please let me know in the comments. Though the instructions and interface on the MX GuardDog website are pretty clear. Or if you'd like you can hire me to get you all set up. Either way … Good luck and happy filtering!