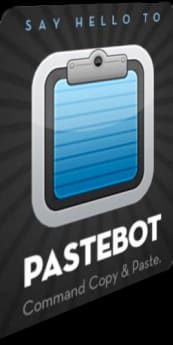 In a previous post about How To: Create IMAP Mail Account on iPhone account on the iPhone, I made reference to this ingenious little iPhone app called Pastebot.
Pastebot is a powerful clipboard manager by Tapbots that stores text & images copied from your iPhone, iPod Touch, and iPad (compatible though not universal yet.). You can organize, apply filters to, and copy clippings to be pasted or sent to other apps, or even to your Mac.
Have you ever gone to a website on your iPhone and it was the type of site that would read much better on a full screen? Or maybe the site is Flash based? With Pastebot and a few "touches" you can paste that long ungodly URL directly to your Mac's browser. I can't tell you how many times I've used this little utility already.
Pastebot, the "little utility that could", and does, is only $3.99 on the iTunes App Store. Combine that with the free Pastebot Sync from the Tapbots website and you have a very handy and useful combo.On the iPhone, Pastebot will keep track of every item you cut or copy. It will automatically save 99 items in its "clipboard". You can name and file any of those items into folders for later use. I have copied all my eMail signatures into a folder in Pastebot, and now I can easily copy any of those back to the iPhone clipboard to paste into eMail I compose on the iPhone.
Saw a site on your iPhone you'd like to see on your Mac? Use Pastebot Sync to be able to paste that URL directly from you iPhone into the Safari URL field. I can't tell you how many times I've done that. Want to quickly paste a snippet from a document on your iPhone to a document on your Mac? It's so easy.
And now that iOS 4 has multitasking, it's easier than ever to switch back and forth from Pastebot and any other application. On my iPhone this has been one of my most used apps. It's become indispensable.